Non-traditional solutions to help boost your health and wellness.
Green tea is made from an evergreen shrub called Camellia sinensis, native to China, Japan, and countries in North Africa and Middle East.
Camellia sinensis L. (Family: Theaceae); synonym: Thea sinensis, Camellia thea, Camellia theifera, Thea bohea, Thea viridis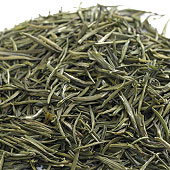 How is this product usually used?
What is this product used for?
What else should I be aware of?
Consult a health care practitioner before using green tea extractextractto get, separate, or isolate a desired active ingredient if you:
have a liver disorder or develop symptoms of liver trouble
are pregnant or breast-feeding
have an iron deficiency
Before taking any new medications, including natural health products, speak to your physician, pharmacist, or other health care provider. Tell your health care provider about any natural health products you may be taking.
All material copyright MediResource Inc. 1996 – 2020. Terms and conditions of use. The contents herein are for informational purposes only. Always seek the advice of your physician or other qualified health provider with any questions you may have regarding a medical condition.