Non-traditional solutions to help boost your health and wellness.
The ginkgo tree is one of the oldest types of trees in the world. Ginkgo seeds have been used in traditional Chinese medicine for thousands of years, and cooked seeds are occasionally eaten.
ginkgo, Ginkgo biloba, fossil tree, maidenhair tree, Japanese silver apricot, baiguo, bai guo ye, kew tree, yinhsing (yin-hsing)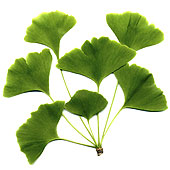 How is this product usually used?
extractextractto get, separate, or isolate a desired active ingredients are usually taken from the ginkgo leaf and are used to make tablets, capsules, or teas. Occasionally, ginkgo extracts are used in skin products.
The dosing for standardized extracts of ginkgo leaf containing 22% to 27% flavonoid glycosides and 5% to 7% terpene lactones is 4 to 12 grams per day.
What is this product used for?
Ginkgo leaf extractextractto get, separate, or isolate a desired active ingredient has been used to treat a variety of ailments and conditions, including asthma, bronchitis, fatigue, and tinnitus (ringing or roaring sounds in the ears).
Today, people use ginkgo leaf extracts hoping to enhance cognitivecognitiverelating to the ability to think, reason, remember, and discern function and memory, as well as to help peripheral circulation. Other uses include treating sexual dysfunction, multiple sclerosis, tinnitus, and other health conditions.
Your health care provider may have recommended this product for other conditions. Contact a health care provider if you have questions.
What else should I be aware of?
Numerous studies of ginkgo have been done for a variety of conditions. Among the most widely researched are dementia, memory impairment, intermittent claudication (leg pain caused by narrowing arteries), and tinnitus.
A study funded by the United States National Center for Complementary and Alternative Medicine (NCCAM) of the well-characterized ginkgo product EGb-761 found it ineffective in lowering the number of cases of dementia and Alzheimer's disease in the elderly, slowing cognitivecognitiverelating to the ability to think, reason, remember, and discern decline, lowering blood pressure, or reducing the number of cases of high blood pressure. In this clinical trial, known as the Ginkgo Evaluation of Memory study, more than 3,000 volunteers age 75 and over took 240 mg of ginkgo daily for an average of approximately 6 years.
Some smaller studies for memory enhancement have had promising results, but a trial sponsored by the National Institute on Aging of more than 200 healthy adults over age 60 found that ginkgo taken for 6 weeks did not improve memory.
Overall, ginkgo has not yet been found to have a significant effect on symptoms of intermittent claudication, although several small studies have found modest improvements. There is conflicting evidence on whether ginkgo is effective in treating tinnitus.
Side effects of ginkgo may include headache, nausea, palpitations, gastrointestinal upset, constipation, diarrhea, dizziness, or allergic skin reactions. Restlessness, vomiting, weakness, and lack of muscle tone have also been reported with large doses. More severe allergic reactions have occasionally been reported.
Ginkgo may increase bleeding risk, so people who take products that affects coagulation (e.g., anticoagulants, antiplatelets, NSAIDs) or have bleeding disorders, or have scheduled dental procedures should not take this product. Gingko leaf extractextractto get, separate, or isolate a desired active ingredient should be discontinued for at least 2 weeks prior to elective surgery.
Fresh (raw) ginkgo seeds contain large amounts of a chemical called ginkgotoxin, which can cause serious adverse reactions – even seizures and death. Roasted seeds can also be dangerous. Products made from standardized ginkgo leaf extracts appear to contain little ginkgotoxin and appear to be safe when used orallyorallyto be taken by mouth (swallowed) and appropriately.
National Toxicology Program (NTP) studies showed that rats and mice developed tumours after being given a specific ginkgo extract for up to 2 years. Further studies are needed to find out what substances in ginkgo caused the tumours and whether taking ginkgo as a dietary supplement affects the risk of cancer in people.
There may be an interaction with gingko leaf extract and any of the following:
anticonvulsants (e.g., gabapentin, phenytoin)
anticoagulants/antiplatelet drugs (e.g., aspirin, clopidogrel, low molecular weight heparin)
antidepressants
antidiabetic drugs
atorvastatin
buspirone
certain drugs metabolized by the liver (e.g., acetaminophen, diazepam, omeprazole, ibuprofen, codeine, clarithromycin)
efavirenz
risperidone
seizure threshold lowering drugs (e.g., bupropion, penicillin)
simvastatin
trazodone
warfarin
Consult your health care provider if you're taking 4–6 grams of ginkgo daily for more than 8 months, or 6–9 grams daily for more than 6 weeks, or 9–12 grams daily for more than 4 weeks.
If you are taking medication for diabetes, high blood pressure, or seizures, or if you are pregnant or breast-feeding, talk to your health care provider before using ginkgo leaf extracts to make sure the product is safe for you. Couples attempting to conceive should also consult their health care provider before starting on ginkgo leaf extract.
Before taking any new medications, including natural health products, speak to your physician, pharmacist, or other health care provider. Tell your health care provider about any natural health products you may be taking.
National Center for Complementary and Alternative Medicine (NCCAM). Herbs at a Glance. Ginkgo. http://nccam.nih.gov/health/ginkgo/
All material copyright MediResource Inc. 1996 – 2020. Terms and conditions of use. The contents herein are for informational purposes only. Always seek the advice of your physician or other qualified health provider with any questions you may have regarding a medical condition.